Good Morning!
I wanted to make our family an advent calendar and include fun little daily activities in it to do leading up to Christmas Day. I wasn't sure if candy and an activity tag would all fit in the muffin tin calendar I originally intended on making (I'm still going to make one as a visual countdown for my kids) so I got an idea to use our coffee tin this morning. I will simply write down activities on tags and pull one out each day. These will include things like make hot chocolate, decorate the tree, bake cookies, read the Christmas Story, etc. My boy is at the age (almost 4- next month) where I want to start our own family traditions.
H2H has a Christmas Challenge going on too...check it out! Lots of beautiful creations!! Check it out
HERE!
Here is my creation:
First Start with this: (if you are addicted to coffee like I am, this shouldn't be a problem :))
Cover coffee tin in paper of your choice and decorate as desired:
+

One of the many things I love about Close To My Heart is they completely make the process of matching papers so much easier! Their papers are so beautiful too and they have matching embellishments. For a busy mom like myself it makes it quick, easy and fun to make creations!
I'm also linking this up to We Share Wednesday! Check it out! Lots of cool creativeness and ideas~!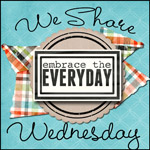 Thanks for checking out my creation!